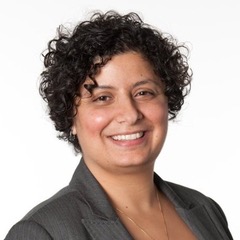 With over twenty years of experience as an enterprise software engineer, Ms. Rana Kanaan's accomplishments have driven fortune 100 business' functionality globally. Whether working with small or large businesses, Rana's human-centered holistic approach leverages the best innovations in technology. Today she uses her talents to consult and advise growing technology companies, helping to steer their product and market strategies, allowing them to become model organizations within their communities.
Rana's amazing journey wouldn't have happened if it were not for the access and resources her immigrant family was provided by the U.S. and Canada. This multi-cultural experience has intimately shown her both the gifts and cruelties the promise of equality brings, and what happens when ideals of law clash with the realities of culture - to damage whole societies. Through her personal understanding and eternal optimism, Rana aims to break through these barriers by partnering with Equal Justice Under Law, to help elevate change and further growth across the country.
Acting as a visible role model, Rana has passionately sought to advance women and girls in STEM through many avenues over the years. By speaking at events like UC Berkeley Haas Women in Leadership, British-American Council, as well as by bringing corporate sponsorships to IIE and Clinton Global Initiative, plus mentoring and advising with programs like WeTech and TechWomen, she has advocated for female engagement in technology. Rana holds a Bachelor of Applied Science, Electrical Engineering from the University of Toronto and is a graduate of Stanford.
In her leisure time, you'll find Rana paddling, snorkeling, hiking, volunteering, traveling the world, cooking, sharpening knives, and reading and writing with her plethora of modern and vintage pens.